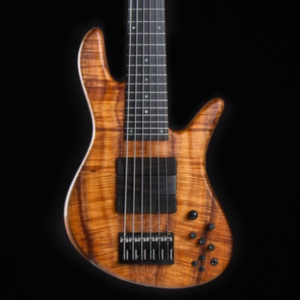 I am often asked "who makes your bass and what are the specs"? This article addresses those questions about the Koa 6 and provides a brief history of it's development.
My Koa 6 string bass was made by Fodera Guitars in New York City and is the most important instrument I've owned.
The first bass I played was my father's old Fender Jazz Bass when I was very young.  Since then, I have always preferred offset bodies like Jazz Basses because of their balance and ergonomic playing angle.  Fodera's Emperor body is similar to a Jazz but with improvements like a lower horn shape that grips your leg and a deeper cutaway for better fret access.
The woods I chose for this build were Hawaiian Acacia Koa top, chambered walnut body, ash tone block, ebony fingerboard and a maple neck.  This combination of woods produces a clear, full tone with rich mids ( read about tone woods ).  The 33″ scale and 17.5 mm string spacing opens up chording possibilities and offers economy of motion.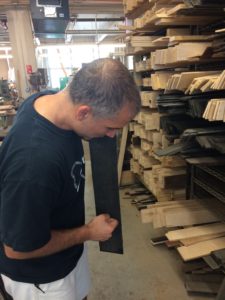 The Koa 6 has the sound and feel I've always dreamed of in an instrument thanks to Fodera working closely with me during the build. I am truly grateful to play this bass; it consistently inspires new music.  So far, I have used this wonderful instrument on my albums Year in Review, Peace Project, & Hypnagogery.